I am an anxious doctor. Or at least I WAS an anxious doctor. After literally decades of suffering from intractable anxiety, and seeing over 50 different types of healers I found my way to heal my anxiety through very unconventional (for a medical doctor at least) means. In 2013 I was so anxious I considered suicide and a friend suggested I try LSD, and although that scared the crap out of me it showed me the path to healing. You don't have to do LSD to heal, I took it for you! I'm a medical doctor, neuroscientist and intuitive. (I know, common combination!) I found my way out and it is counterintuitive and very non conventional (but not scary!). I will show you the way out too, you just have to listen to me, dammit!
Episodes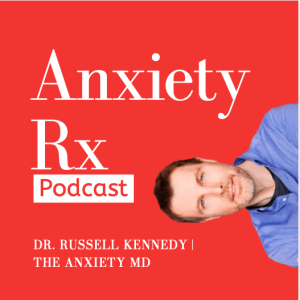 Monday Jun 05, 2023
Monday Jun 05, 2023
Sorry i've been away for the last few weeks.
I've been in Europe doing some promotion for the book and the MBRX program and then I got sick... 
This week's episode I delve into the topics of over-dependence, over-responsibility, people pleasing, and the concept of alpha children. I talk about how we learn to read other people's needs when we are children and slowly neglect our own and how this self neglect and lack of self-care becomes an insidious and destructive program that separates us from our own selves internally and creates a tremendous amount of alarm. 
Thank you for listening and you can find me on IG: @theanxietymd if you have any questions.
P.S My ability to look after myself has increased exponentially, and I can still feed my need to help others by writing my book ANXIETY RX and creating MBRX while at the same time looking after myself.
To join 600+ MBRXER's healing their anxiety, click here.