I am an anxious doctor. Or at least I WAS an anxious doctor. After literally decades of suffering from intractable anxiety, and seeing over 50 different types of healers I found my way to heal my anxiety through very unconventional (for a medical doctor at least) means. In 2013 I was so anxious I considered suicide and a friend suggested I try LSD, and although that scared the crap out of me it showed me the path to healing. You don't have to do LSD to heal, I took it for you! I'm a medical doctor, neuroscientist and intuitive. (I know, common combination!) I found my way out and it is counterintuitive and very non conventional (but not scary!). I will show you the way out too, you just have to listen to me, dammit!
Episodes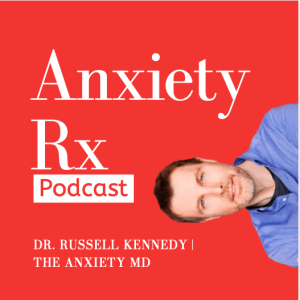 Sunday Mar 19, 2023
Sunday Mar 19, 2023
This episode, is the most practical and emotionally vulnerable episode of the ANXIETY Rx PODCAST so far. 
In this episode, I talk about the root cause of anxiety being a separation of your adult self from your child self and the practice I do every morning of listening to Peter Gabriel's "IN YOUR EYES" because the words are about creating a connection with his younger self.
I drill down to the meaning of the lyrics in relation to the art and science of healing your anxiety and alarm so you can understand create your own healing...
Press play now to listen to the full episode.
PS. I'm giving away a FREE chapter of my book. Click HERE to download it.